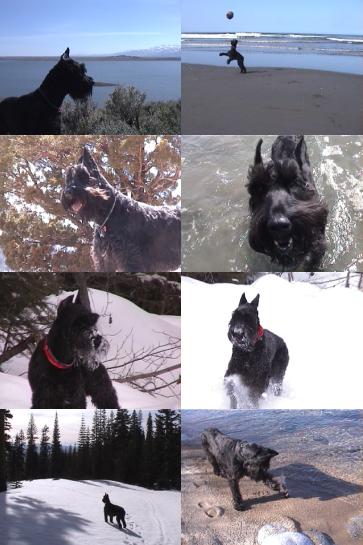 Welcome to Ralf's Home Page July 11, 1991 - May 9, 2003
Hello. My name is Ralf. I am a Giant Schnauzer. Ive lived in Boston, DC, and Seattle. My principle interests are taking walks, chasing squirrels, eating snow and cheeseburger subs from Corrado's Sub shop. In Seattle I spend time swiming at La Paw Spa in Redmond after a romp at Marymoor park. I was born at Skansen Kennels in Sebastopol, CA. (click my picture for a bark).
Regarding my collection activity, at 101 lbs, I can be very persuasive if someone fails to pay their accounting or consulting bill.
A dog and his boy. From his boy:
Unfortunately, the memory of the 'Net has outlasted the life of my dearest family member. So here he lies. The first Giant Schanauzer with his own Web page, his own postal junk mail, and a legacy or memories which I will cherish till the day I die.
May 10, 2003

Letter to my beloved Ralf from his "boy"-

I wish so much that I could saying this to you as you layed your
weary head on my lap, as youve done so many years in the past, but
you are never one for many words. 
We never spoke much but,
we always communicated and knew what was on the others mind.

As I sit here in the living room on your dog bed recalling your
last days on earth, I see so many things that remind me of you
and wonder how I will ever continue without you.

Did it hurt much on Friday ? I am so sorry I wasnt there to
comfort you but I want you to know I really liked Brian and 
Kieth you were in caring loving hands. I hope you have settling in
to you new life wherever you are. I search for you constantly so
please let me know where you are once you are settled so we may
have those heart to heart conversations again.
 
Your dog brush which you hated,
your big cloth ball that you would toss in the air,
your bunny that you play keep away with and occaisionaly sleep on,
the car that I got for you, 73 mercury montego (although I know that your
favorite was the LTD...it was mine too),
your bag of toys,
your collar (which I still keep with me) and leash,
your life I have shared for the past 12 years,

Damn...this is too hard...dare I say, I have never loved anyone
as much as you. Not even after the passing of some of my close friends
or even my mother have I missed someone so.

I realize that this is selfish; that you have gone on to a place
where the pain that has plagued your knees for over half your life
is gone, where the effects of old age are gone. 
But I hope your 
memory of me remains intact because my memory of you will live long
past any life I have here on earth. For it is one of the few that
make me feel alive and whole. As it was with you by my side, together
with your memory, we could overcome anything that got in our way 
from dragons to depression,
from killer squirrels to lonelieness,
from bears to fear,
from skunks to the cold,
from the nightime ghosts surrounding fire hydrants to weakness, 
I need you now Ralf to overcome saddness.
Though selfish I miss you so.

Are they feeding you well there ? Are you getting the steaks
the way you like them ? I hope they are juicy raw ribeyes. You can have
them now Ralf; they wont make you sick.

As of now, I continue to search for you or some sign of you;
wandering the places where we have been together;
recalling moments.
When I get your ashes, where would you like me to spread them ?
I think some here with my parents at Arlington Cemetary so I can
visit with you always;
a little in the yard in DC (I know DC was not the best place
for you.);
some back in Natick at the high school (I will say high to Mr.
Daly for you although if you meet him before me in heaven be nice
to him. I know you know he realy liked you.);
some in Seattle; and some I may keep.
Let me know if there is anywhere else.

I know you are not in the ashes but you must let us silly
humans have our rituals. Society has put blinders on us so
that is hard to see the truth, although your companionship
has allowed me a glimpse or two of the big picture.

Often times we were described as a boy and his dog. A boy
since with you, many of my boy like qualities emereged.
But in fact its always been a "dog and his boy", for I 
always followed you, learning from you, listening to you,
and loving you like a boy loved his father.
You opened my heart and mind to the sublties of nature.
Ralf, I hope I will always be your boy. 

Where are you Ralf ?
Are you in the body ?
Are you in heaven ?
are you in that wisp of wind that rattles the leaves ?
or are you in me ?

I did see your sign Saturday morning.
I asked where you are and you promptly turned the
sky a dark and thunderous green and then within a
few minutes, after we had gotten a coffee, you lightened
the skies again.
I also must thank the powers that be for giving me Debra
as a new friend to console my weakened soul the evening
of your passing.
If it was my mom that did that, tell her thank you when you see her.
My mom is a little hard to get close too, but as you
hopefully have found out by now, she does indeed have a
gentle spirit.
You know we always thought you two had some connection.

Ralf, you could always make time stop.
For every walk you led, you could make time stand still
so that we could observe nature's miracles.
Why then could you not make time stand still for
yourself ? Is that the tradeoff for having such a power ?
Some people have said 12 years is long for a dog.
But the 12 years starting with your arrival felt like a
lifetime. Maybe this was because of your time stopping powers.
If it was a lifeime, why have I been left behind ? 
I should be with you.

Ralf, I dont know how or when but good will come of this,
I promise you. Your passing will make me
try even harder to aspire to attain the noble, proud,
gentle, and fun loving qualities that I had assigned to you
during your lifetime. 
Your presence on this earth will do good through me.

The time you would look up at me 
the way you would play soccer, batting the soccer 
ball between your front paws and then mouthing the
ball for keep away.

When I unleashed you for some serious roughhousing,
it was I who became unleashed, experiencing a 
playing frenzy I hadnt experienced since I was a
small child. Tearing clothes, rolling in the mud
(remember that first 60 mile trip on the canal ?),
jumping, running, spinning like we were 4 year olds.
You were 4, I was 40. Thank you Ralf.

I will speak to again soon.
Now I need to turn off your email and web page.

I love you Ralf. Please help me find the way to you.

July 3, 2003

Geeze. Was that you that kept the skies so gray and rainy since your passing.
Only in the last few weeks has it cleared up.
Its been diificult, and the saying trite, but time has a way of
healing.
And the hole left in my heart has slowly filled with memories of
you when you were younger and carefree.
I still count on you when I get confused though, or loose my direction,
grasping you chain collar in my pocket or looking at your pictures
on my office desk.
I look longingly at other dog owners and their dogs, 
but I know there is no replacing you.
I must struggle through this like I have with every other loss
and at minimum, gain compassion and understanding for my fellow man.
You would not like the summer we are having here in DC. It is nowhere
near the brisk freezing temperatures you were at home with. 

We scattered your ashes around what I remember as some of your favorite
spots in Natick. Behind the high school in the pond, where you caught your
first chipmunk, the soccer field where you and I played soccer, 
the thick underbrush that circles dug pond, the old cemetary, 
our neighborhood street, the dark path where we would catch the 
kids smoking and drinking at night.
With you by my side there was no path to dark or creepy that I wouldnt
explore. I hope these are ok places and thank you for arranging for a secluded
spot (I dont know how you got the chair there) on an otherwise busy
weekend. Very peaceful.

January 10, 2004
A new year has come and still a day does not go by that I dont think of you Ralf. I still carry your collar with me and count on it to remind me of the lessons you taught me. And when I show the pictures of you I carry in my wallet to new friends I, for a moment, believe you are still with me. I must then look away to avoid crying. Then I know that you are with me Ralf. In the choices I make every day, between right and wrong, taking the high road versus the low road, in doing right by others, in being compassionate, in tolerance, in knowing what is truly important, in knowing whats real (and I used to think you were seeing things that were not there), and in knowing whats fun.
I missed you over the holidays although I dont know if it was your doing to make sure they were filled with many new exciting experiences and acquaintances. It seems as though your spirit has filled many of those human around me as I am finding reflections of your soul in them. Is this your way of telling me who can become friends ? You were always very careful of who you called friend but like me, once friend, always friend (like Mark and Mr. Daly. They are always friend. I think Mr. Daly would appreciate a visit by you.)
Yes Vicki is still around and as feisty as ever. Sometimes for my sake she tries to be like you but lets face it, regardless of size, she will never have the outlook on life that you and I have. She is in Seattle now with Kathie wandering the places you roamed. As you know I placed some of your ashes there in September. Along Myrtle Edwards to Elliot where you and I roamed on a daily basis as I hopelessly tried to point out the beauties of a sunset to you. Do you see the sunset now Ralf? Isnt it beautiful? I know there are beauties in other senses as well. The sense of smell is quite powerful and must not be overlooked (and I fear for my fellow humans that as their reliance on vision continues to increase while at the same time their vision requires more correction), for what other sense can instantaneously transport you to times and places long since forgotten. Thanks to you Ralf I now never miss an opportunity to smell something for these memories will have the power to transport me even when I am old and feeble.
I hope you are happy where you are. Right now I am dogless and the temperature is perfect for you, 25F. Will you walk with me Ralf, I am taking a walk.
June 1, 2006
Who's Cuter?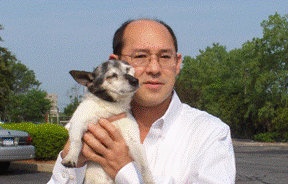 You are Pick. Vicky (alias: Picker) joined Jeff at 9:40AM today June 1, 2006 at almost 19 years of age.
Ralf-
I haven.t written to you lately but I thought I would give you a heads up. You may see Vicky soon. I know you and her never really got along, but will you treat her kindly during her transition? Unlike you, food was one of the few pleasures she enjoyed up until her passing so please let her share your bowl, at least until she is reunited with Jeff. Although she was not as "human" you, I will miss her. As Jeff put it, Vicky knew what she wanted and what she didn.t, I only hope that we did not wait to long to fulfill her final desire. Vicky remained sharp and focused on food until her last hours, and unlike you and I Ralf, had the iron stomach to enjoy it. Even more so than you, Vicky only cared for the here and now. She was burdened with little history, except maybe memories of my "tormentia" - oh how will I miss this - this sharpened my reflexes and frankly, kept her alive. Vicky- was that you that put that hearty New Englander of a veterinarian in our path (and then again at Rileys roast beef) to ensure we would follow through (and later to ease my questioning mind)? If so, thank you. More proof that life is not random and that even the littlest being can have a profound effect. Much has changed in the last two weeks Ralf in leaving behind most of the material things that anchor us in life. In leaving my childhood home I only hope that you can continue to guide me, as you did when you were by my side, along a path that doesn't leave my childhood trust, innocence and wonder behind. I continue to follow the signposts and hope I followed the right sign for Vicky. I know Ralf, now let's just go play...put Vicky down! She is not a soccer ball ;-)
March 14, 2009
Ralf-

Though you are by my side everyday, I haven't written to you this way for a while. How are you? I hope you are eating well and there are plenty of places to explore. Even with many aspects of the world I live in in a disarray (the economy), as of late I have had the wonderful opportunity to travel the world and be myself. I don't know what is at work here - I know it is not chance - but I suspect it is you and others with you that I have to thank for this. How I wish I could reciprocate by taking you on the long walks with me through the dark alleys and curious places you have let me see. I don't know how to thank you but to continue to try to do right by your memory by helping the humble souls out there. The friends you have helped me garner along the way are wonderful but there are still many things only you can help me see. Even after almost 6yrs I do still miss your physical presence so. Sorry for being so human. I know, if something bugs you, just go outside and play. It will all be better. I miss the simple clarity of our romps through the woods and your innate ability to identify the humble souls amongst us. I was happy to find out last week in DC that one of those humble souls we both know, Spiro, is doing well. They seem to be harder and harder to find these days as exemplified by our new Administration's continually fruitless search for them - particularly in Washington. If they would only look outside (Washington) and see who is really playing with their dog. I have come to appreciate this skill as one of the invaluable things you taught me here on earth. Hopefully I will come to understand the other things I tried to learn from you. Kathie made a roast the other day that you would have loved. Smelled great didnt it. Even Mark liked it. Seems the one thing that you and I can enjoy now (without upsetting our stomachs) is a great roast. Thank god. Please take care to go outside and play. Hope we chat again soon if not here, then on my daily walk to and from work.
Love - your boy.
A love so pure.
...
Ralf-

I miss you.
September 14, 2018
Ralf-

Please meet my dearest friend Curt. Much like you we stood together, partners in crime, growing-up ... and friendship. He, like you, was my brother. However, as happens with geographically related brothers, time and life set us on different courses through life. So regrettably we never had that "week off with the boys" vacation that I dreamt some day we would have together. So please befriend him (you did meet him at least once) and make sure he is happy. His dog Gretchen who you may see was a loyal companion during our youth as well. Every time I have a coke in the summer, see a kid mowing a lawn, listen to jazz, or drink Canadian beer :-), I think of him. I feel so blessed in to have had such a friend in life that I promise to only do good by him. Please stand by him as you did with me as you seek out and photograph the majestic vistas captured by your memories together. Goodbye my friend.
January 18, 2022
Ralf-

Please meet Rose. Yes. She is a little feisty but as we both know* about humans, this usually belies a heart of gold. Between the best anchovie pizzas Ive ever had, she (and husband Jerry dec.) taught me how to grow old with grace and happiness right to the end. Such lessons in life are rare (and never this tatsy). Please lick her face when you see her; wait for the grimace and comentary; then her beautiful smile and hug.
*of course as a dog, you always saw right through to people.
---
Some of my favorite links:


Ralf !
Last updated Jan 2022